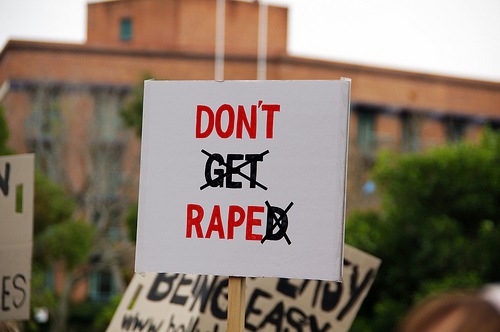 WOMEN. How much longer do we have to put up with this crap?
The women that I see around me - intelligent, sassy, confident – do not correlate with the women that I see in the media. That's nothing new. But there was supposed to be progress! There was supposed to be equality! Despite the fact we are now living in 20-bloody-13, several recent instances stick out in my mind as not only demeaning and patronising, but violent. Being violent towards women doesn't just involve punching them in the face; promoting sexual harrassment, victim blaming, and attacking other women are all painful ways of discouraging female aspiration and allowing Neanderthal attitudes to continue to rampage on.
In his new song, 'Blurred Lines', Robin Thicke sings to a woman presumably unaware of the extent of her sexual magnetism, 'you the hottest bitch in this place'.
It's just the sort of thing that women/bitches everywhere want to put on their CV.
I'm joking – we don't. And this song, which is playing in all the hippest joints in town where I go to swing my hips (for the love of music, not to attract penises to rub against my back), glamourises a grotesque attitude to both the objectification of women and rape culture. The frightening thing is the way that the promotion of these things becomes so casual – you can be humming 'do it like it hurts' under your breath without even thinking about what Thicke, who might go to prison for saying shit like that if he wasn't a pop star, actually meant. And what does he mean? Women should pretend like they're in loads of pain when they're having sex with Thicke & Pharrell etc? Or they should actually be in pain? One of the lyrics, 'I'll give you something big enough to tear your ass in two', implies the latter.
What is worrying is the way in which Thicke has responded to accusations of misogyny. Claims about it just being fun (oh, particularly that bit in the video where he blows smoke in a woman's face and she chokes), or us being scared or prudish about the naked body (I'm not scared of being naked, I just prefer to be so under my own consent) just don't wash. The most laughable excuse is when Thicke genuinely parallels his music video with portraits of women in the Louvre. Genuine Thicke quote: "'People say, 'Hey, do you think this is degrading to women?' I'm like, 'Of course it is. What a pleasure it is to degrade a woman.'"
I suppose when we live in a world where grown men think that women's bodies can shut down after rape, comments like that aren't surprising. It's hard to believe, though, that we live in a world where women themselves would participate in victim blaming. And yet we saw this occur very recently when Serena Williams decided to tell the world that she thought that the Steubenville rape victim was 'lucky' because 'it could have been much worse'.
Since this happened, I have seen debates all over the internet where victim blaming is still a very real stance, from both men and women.
Women should not bear the responsibility for whether or not they get raped. JUST DON'T RAPE THEM. It's really that simple. I've heard reams of inane analogies, like 'you wouldn't leave a delicious cake just sitting on the side and expect no one to eat it'. The problem is, if I was a cake, I would be made of eggs, flour and sugar, and I wouldn't be able to complain very much about someone putting me in their mouth. But since I am a woman, I  certainly can complain about someone putting me in their mouth against my will, and I certainly intend to.
And if I can't? Because I am inebriated to the point of not being able to formulate a coherent response? I still don't even see how this can be justified as the fault of the victim. 'If you get really drunk so you don't know what's going on, you should probably expect to get raped'.
NO.
Who in their right mind would look at a woman in a state of extreme intoxication, and instead of thinking 'she is in a vulnerable state and needs help', thinks, 'she's in a vulnerable state… WHEY, gona shag her, cos she probably would have said no otherwise'??
And on the subject of what women wear – I'm looking at you Liz Jones, Daily Mail columnist. In case you didn't know, she wrote an article so ludicrous and so offensive about Rihanna that Rihanna herself ended up responding to it. One of the things that Liz Jones accused her of was 'the sort of fashion sense on stage that surely invites rape at worst, disrespect at least'.
Just the phrase 'inviting rape' makes me want to jump out of my ground floor window. NO WOMAN WANTS TO INVITE ANYONE TO RAPE HER. Women are presented with images of other women with bodies like long distance runners all the time, but the minute a woman wears what she wants and is confident in her body, apparently she is giving all men in the world an RSVP BYOB to her vagina. (Although Rihanna has got a clothing range in River Island now, so perhaps all garments should now come with a trigger warning).
The other day I saw a middle aged, overweight man walking around topless, just wearing shorts. Do you think it even crossed his mind that someone might shout at him 'ARRRRHHHH FIT' or 'PUT SOME CLOTHES ON SLUT'?' Do you think he wondered whether to go on Reclaim the Night this year? I think he probably didn't. Yeah alright, he's a man, he doesn't have his tits out (although in this case, he did), but he was still able to wear whatever he did or didn't want to wear without being accused of 'asking for it'.
But Liz Jones is a sad example of women hating on other women in order to provoke a reaction, just as we saw recently with the Telegraph article that declared Kate Winslet to be the spawn of Satan because she's had three children by three fathers. One photo of Rihanna drinking a beer was captioned, 'She doesn't even bother with a glass'. What a hoe bag she truly is. Another, of Rihanna on a boat, states, 'I was taught never to eat before swimming'. Well, Liz, that's why you are basically the pinnacle of female achievement and inspire a state of awe in us all. It seems to me that by attacking Rihanna, Liz Jones totally misses the point – she attacks one woman, rather than looking at the culture that surrounds us as the source of the problem.
But back to the subject of rape – my concern is that, amongst a cult of victim blaming, attitudes towards rape culture are becoming worryingly casual. Along with Thicke's glamourisation of it, and Liz Jones's belief that what we wear 'invites' it, it is even becoming a cynical dramatic ploy in TV drama. Most recently, an adaptation of Philippa Gregory's novel 'The White Queen' was criticised for its rape scenes, but what springs to my mind is the recent David Tennant drama, 'The Politician's Husband'. This sub-standard political drama basically centred around the fact that Tennant's wife was becoming a rising political star and he felt jealous and emasculated by it. One way in which he sought to reassert his masculinity was to anally rape her in a particularly graphic scene.
Is that necessary? Is rape really just a plot device to show that a man wants to claim some power over a woman? There are two worrying consequences from dropping in rape scenes like this: 1) it becomes normalised, and loses its shocking impact and 2) it even risks becoming titillating.
We think we live in a civilised country. We think we enjoy all the advantages of progress. And yet, on a day to day basis, violence against women is being both casually inferred and explicitly encouraged within our culture. It keeps happening all the time, and we need to keep calling it out until it stops.
Robin Thicke tells us in his song, 'Just let me liberate you'. Somehow I don't think he is the right candidate for the job.